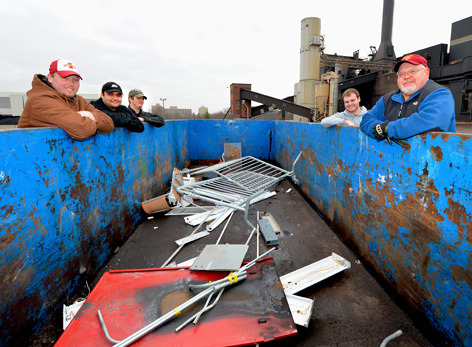 Their efforts likely won't earn any international citations. Or any state ones, for that matter. But the construction staff in Iowa State's building maintenance services takes pride in recycling demolition and construction materials from their projects. During 2012, they recycled more than 40,000 pounds of plaster and concrete and more than 162,000 pounds of scrap metal. More than 20,000 pounds of wood was reused – as scrap kindling for the coil boilers in the power plant, by ISU carpenters or perhaps by community members who frequent the free wood site on Haber Road.
This team has a skill set that would make any homeowner jealous. They replace broken windows and missing doorknobs, they create custom furniture and scientific props, they repair vandals' work, they adjust doorways or countertops to make rooms accessible and compliant with federal regulations. But their "bread and butter," as supervisor Eric Zierke calls it, is small, individual classroom and lab remodels. Because each one costs less than $100,000, they don't have to be bid to outside contractors. Most often, Zierke and his team collaborate with staff from room scheduling or IT Services' classrooms team to convert spaces from dated to state-of-the-art. In-house electricians, carpenters, plumbers and painters lend their skills, too.
The pilot
No one asked them to start recycling, Zierke recalls, but about three years ago, "we decided to hold ourselves to the same standards as our capital projects people. It's the right thing to do."
What started as a yearlong experiment evolved into a regular practice.
Any furnishings or equipment that might find a second home are taken to ISU Surplus for public sale. Scrap metal -- for example, from ceiling grids, fume hoods, furniture, pipes -- is delivered for recycling to east Ames' Bell Salvage, where the receipts go back into project budgets. Plaster, brick and concrete block – if the load is at least one third of a dump truck -- can be repurposed locally with Manatts. And the university is just entering a ceiling tile recycling program sponsored by the Armstrong company. Asbestos-free varieties of ceiling tile will be stacked on pallets and loaded into a semitrailer. When the trailer is full, Armstrong hauls it away.
Keys to success
Zierke credits two factors for the recycling program's success. First, the tweaking of standard computer software by facilities programmer Ron Kinyon allows Zierke's team to manage projects and track what is recycled. Zierke said student employees, four part-timers during the school year and as many as six full-timers during the summer, keep recycling affordable.
"It's hard, dirty work, but they follow directions really well," Zierke said. "I couldn't justify all the recycling we do if I was paying tradesman-level wages for what they do for us."