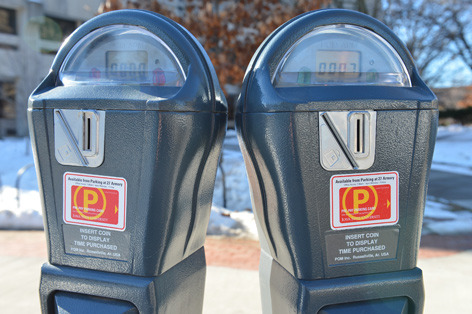 Within six months, virtually all parking meters on campus will let you pay with a pre-paid smart card. Parking staff began installing new meter heads in the most popular lots around campus this week.
If you frequent metered lots near Beardshear, Howe, Hach, Hamilton or Carver halls or the new State Gym, you'll soon be able to use a Smart Card to feed the meters. (Coins also will continue to work in the new meters.)
Parking division manager Mark Miller said all 245 meters on campus will be replaced within the next six months. The new meters display a large red and yellow sticker with a "P" and the words "pre-pay parking card."
"We're really trying to be more customer friendly," Miller said. "The new meters should be particularly handy for students who regularly park on campus."
To get a card
If you want to pay for parking with a Smart Card, you'll need to purchase one in the parking division office, located at 27 Armory. There's a one-time $5 purchase fee for a card, which you can preload with up to $300. Additional money can be added to the card at the parking division office.
Smart Cards are also valid in the pre-pay lots near the Armory, Lied Center and the East Parking Deck. They won't work in the Memorial Union ramp.
Time limits remain
All meters on campus have designated time limits and will expire whether a Smart Card or coins are used. Time limits and operational hours are listed on each meter.