Could you pick out a Frank Lloyd Wright house in a neighborhood? Do you know that Beardshear Hall was modeled after ancient Greek and Roman buildings? If you answered "yes" to either question, you might enjoy testing your architectural savvy on ... birdhouses.
The photos on this page depict just a few of the recent creations of students in professor Dan Naegele's history of architecture class. Each student's assignment was to create a birdhouse (suitable for Iowa birds and Iowa weather) in the style of 35 eras from prehistory to 1750. So it's not going to be quite as easy as finding the Frank Lloyd Wright, but you're up to the task. The houses were briefly on display earlier this week south of Beardshear.
Try matching the seven birdhouses on this page to these styles. (Two birdhouses are in the same style.) See answer key below.
Italian Proto-Renaissance
French Gothic
Primitive
Italian Renaissance
Mughal
Chinese Garden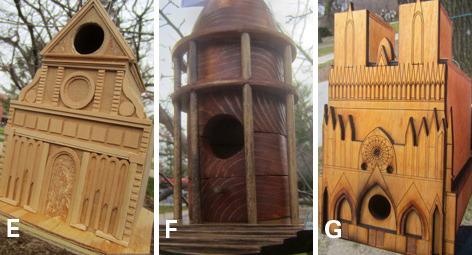 Answers:
A. Chinese Garden B. Primitive C. Mughal D. Primitive E. Italian Renaissance F. Italian Proto-Renaissance G. French Gothic