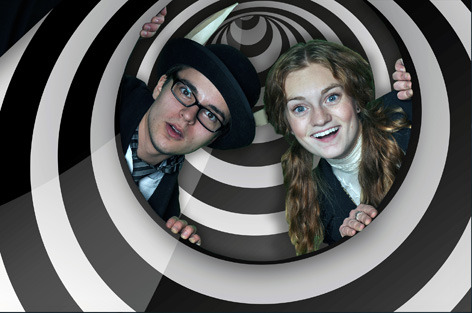 Just in time for the holidays, ISU Theatre presents an adaptation of Alice in Wonderland by music and theater lecturer Matt Foss. The show opens Nov. 30 for a two-weekend run at Fisher Theater.
Foss' adaptation is based on Lewis Carroll's novel Through the Looking Glass, but with a few twists. Alice's journey begins when she falls into a city trash bin (a modern version of the traditional rabbit hole) and finds herself in Wonderland. Familiar characters, such as the White Rabbit, Cheshire Cat, Mad Hatter and Queen of Hearts, transform the trash into a magical world. Foss also added puppets to the cast along with original music and lyrics.
"The play will delight all ages," Foss said. "Our aim is for it to be engaging and enjoyable for children and adults alike, where the story is accessible to all ages, with wit and sincerity that works for the adult sensibility as well."
Performances are Nov. 30, Dec. 1, 7 and 8 at 7:30 p.m.; Dec. 2 at 1 p.m.; and Dec. 9 at 2 p.m. Tickets, $16 ($8 for students), are available at the Iowa State Center ticket office or through Ticketmaster.