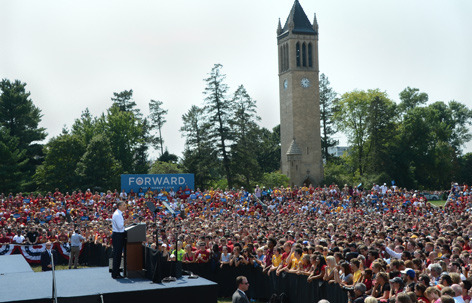 An estimated 6,000 central Iowans – many of them Iowa State students -- braved temperatures in the high 80s to hear President Barack Obama on central campus Tuesday. It was just the third time in the university's history that a sitting president visited campus (following Gerald Ford in 1976 and William Clinton in 1995).
In a 25-minute speech, Obama covered topics as varied as wind energy and other alternative energy sources, health care, coach Paul Rhoads' ability to deliver a great speech, civil rights for gays and lesbians, protecting the middle class from higher taxes, bringing soldiers home from Iraq and Afghanistan, and higher education.
"In America, higher education isn't a luxury, it's an economic necessity that every family should be able to afford," Obama said.
Student act
Iowa State students received key roles in the program preceding Obama's talk. Senior Mischa Olson, who's double majoring in biology and Spanish and hopes to head to graduate school, was selected to introduce him to the crowd.
Olson, who caucused for Obama four years ago and volunteered with his campaign this summer, said the campaign's Chicago office called her with the invitation "and liked what I had to say.
"I'm incredibly honored to be selected for this," she said.
ISU College Democrats president Abhishek Vemuri, also a senior, gave a short welcome and urged his student peers to register to vote and to make time to vote on Nov. 6. And 16 members of the Iowa State Singers performed the national anthem a capella.