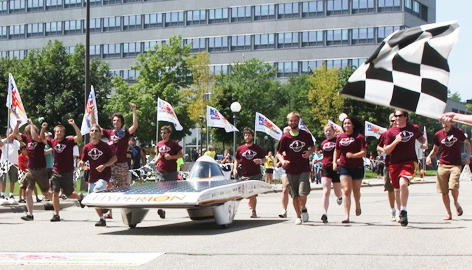 Neither rain nor clouds nor curb collision could keep Team PrISUM's solar car from notching its highest-ever finish in the biannual America Solar Car Challenge.
Eight days and 1,650 miles after it pulled off the start line in Rochester, N.Y., Iowa State's student-built solar car Hyperion crossed the St. Paul, Minn., finish line July 21 in second place. It was the highest finish ever for Team PrISUm, which has fielded 11 solar cars for the biannual cross-country race.
The team knew it had a hot car, in every sense of the word, achieving speeds of up to 65 mph on sunny, steamy days that took a toll on less heat-tolerant cars.
The biggest setback came on the second day of race when the ISU car struck a curb on an interstate on-ramp, sustained considerable damage, and lost a lot of time. The team worked into the night to repair a broken suspension piece, damaged aerodynamic wheel fairings and a loose radio wire.
Fresh off its repairs, Hyperion rolled off a speedy day three, passing two teams and moving into fourth place. By day four, the car had gained third place and on day five, Hyperion took the No. 2 spot which it would not relinquish.
Eleven cars competed in the the 2012 challenge. The University of Michigan car earned its fourth straight win in the race.