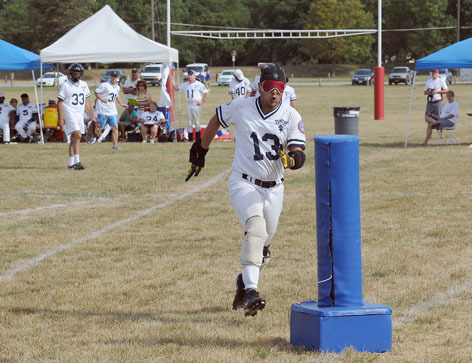 It's world series time this week in Ames for the National Beep Baseball Association (NBBA). More than 370 athletes and volunteers are here for the competition that features 16 coed teams from around the country and another from Taiwan.
Beep baseball -- an adaptive sport for blind and visually impaired athletes -- features baseballs and bases modified with auditory sounds. In this photo, a Colorado Storm player nears the base after hitting the ball. A point is awarded if the runner touches the base before the opposing team fields the ball. Rules and additional information are available on the NBBA website. An event schedule can be found on Ames' world series website.
Round-robin play opened play July 24, and double-elimination games are at 9 a.m., 11:30 a.m. and 2:30 p.m. daily from June 25 to 27. The championship game is at 11 a.m. Saturday, July 28. All games are played at the intramural fields east of University Boulevard, across from Jack Trice Stadium. Admission is free and open to the public. Photo by Bob Elbert.