Atifete Jahjaga, president of the Republic of Kosovo, stopped by campus and the university's Horticulture Research Station east of Gilbert Wednesday.
The visit is part of a military exchange program between the Iowa National Guard and the Kosovo Security Force. The Guard, host of Jahjaga's three-day Iowa visit, is working to expand the program beyond the military by fostering Iowa-Kosovo relationships in such areas as education, agriculture and business.
Accompanying President Jahjaga on the visit were the Kosovo ambassador to the United States Akan Ismaili, U.S. ambassador to Kosovo Christopher Dell, Isa Mustafa, mayor of Kosovo's capital city Pristina, and Maj. Gen. Timothy Orr, adjutant general of the Iowa National Guard.
The delegation met with ISU officials in Beardshear Hall for an introductory overview of Iowa State, then toured the Center for Crops Utilization Research in the Food Sciences Building and the Horticulture Research Station.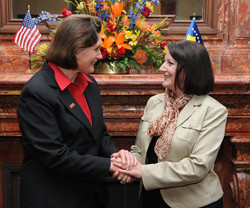 Among Iowa Staters meeting with the Kosovo delegation were:
Elizabeth Hoffman, executive vice president and provost
Miles Lackey, associate vice president and chief of staff
Wendy Wintersteen, dean of the College of Agriculture and Life Sciences
Jeffrey Iles, chair of the horticulture department
Lawrence Johnson, director of the Center for Crops Utilization Research
Mark Honeyman, director of ISU research farms
Nick Howell, Horticulture Research Station superintendent
Denise Bjelland, director of global agriculture programs