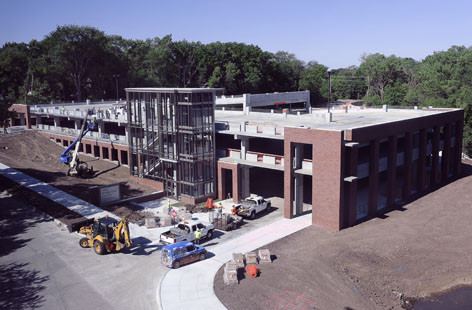 What used to be university parking lot 60, west of the Chamberlain Street intersection on Hayward Avenue, now is the city's transportation hub. The $9.2 million Ames Intermodal Transportation Facility was introduced to the public at a ribbon-cutting ceremony Saturday.
The project, funded with federal grant money and matching funds, encompasses bus, taxi, bike and commuter traffic. CyRide owns the facility, and Iowa State's parking division is managing it. Regional bus and shuttle service will begin July 1.
CyRide director Sheri Kyras said she applied for $12 million more in grant funds to add another 250 spaces in a second-phase structure on the facility's west side. Kyras said parking revenue from the phase two addition would add a CyRide circulator route at the facility. Currently, CyRide's nearest bus stop is on Welch Avenue, near Chamberlain.
Many modes in intermodal
The two enclosed bus bays will accommodate the Jefferson Lines and Burlington Trailways interstate bus lines and Executive Express shuttles to the Des Moines airport. A taxi stand is located on Hayward Avenue, and bike racks and bike lockers are available for those who pedal to the hub. The facility boasts 384 parking spaces, including covered parking slots on the multilevel ramp, and an open, paved lot to the west. Vehicle entrances are located on Hayward and Sheldon Avenues.
Going for gold
Jon Harvey, project manager and architect in facilities planning and management, said work at the facility is expected to wrap up by the end of the month. He said the project is aiming for LEED (Leadership in Energy and Environmental Design) gold certification, which will be determined next fall.
Parking permits
Parking at the facility is free until Aug. 1. Permits are available for faculty, staff, students and the general public. Annual permits rates vary for covered ($480) and uncovered ($180) parking spaces. Monthly permits ($50 covered, $20 uncovered), metered spaces (75 cents per hour) and daily access ($10 maximum) also are available. Carpool and vanpool parking is free.