What weighs nearly a ton, gleams bright with 130 LED panels of images and ideas, plays games, tells stories, solves problems, interacts, interprets, and sometimes sounds very much like Simon Estes speaking Abraham Lincoln's words?
It's Iowa State's land-grant greatness on display. And before the university's exhibit "Transforming Communities: Design in Action" is packed up and shipped to the 2012 Smithsonian Folklife Festival in Washington, D.C. , the university community is invited to a sneak peek on June 12. The open house preview will be from 10:30 a.m. to noon, Tuesday, in the lower level of the King Pavilion, College of Design.
The product of months of creative collaboration by dozens of faculty, staff and students from the College of Design and ISU Extension and Outreach, the exhibit showcases the central role of design in the land-grant mission and extension's impact on communities. It mixes advanced, interactive technology with old-fashioned, personal conversation to communicate how faculty, students and Extension specialists use design thinking when working with communities to solve complex problems.
Iowa State was one of only 17 land-grant universities selected to exhibit in the festival's celebration of the 150th anniversary of the signing of the Morrill Act — which laid the foundation for land grants — and the creation of the U.S. Department of Agriculture. The Smithsonian Folklife Festival was inaugurated in 1967 and attracts more than 1 million visitors to the National Mall each year. This summer's festival will be June 27-July 1 and July 4-8.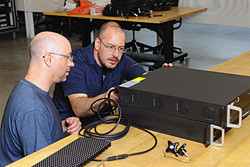 Iowa State's project is led by Chitra Rajan, associate vice president for research, Cathann Kress, vice president for extension and outreach, and Luis Rico-Gutierrez, dean of the College of Design. Sandra Norvell, Center for Excellence in the Arts and Humanities, coordinated the project development. The "Transforming Communities: Design in Action" exhibit also will be part of the university's exhibit in the Varied Industries Building at the Iowa State Fair, Aug. 9-19, and one of the Extension and Outreach exhibits at the Farm Progress Show, Aug. 28-30, in Boone.