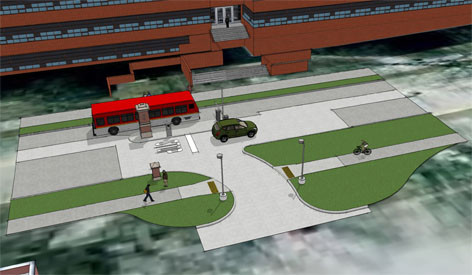 The east control gate on Osborn Drive is getting a facelift, which will close the campus entry point beginning June 11. The renovation work will eliminate the double-island entrance and create a single gated stop.
Barring delays, construction should be complete by the end of July. Stange Road provides vehicles an alternate entrance route during the project, and the west Osborn Drive entrance remains open.
Traffic flow
Currently, the east entrance has an initial voice box stop for visitors, and a second stop for passcard holders. Visitors unfamiliar with campus frequently miss the voice box and get trapped at the lowered gate without an option to turn around.
The new design (see illustration) moves the new single entrance east, giving drivers an option to avoid the gate with a direct turnoff into parking lot 40 (between the Seed Science Building and Kildee Hall's Iowa Farm Bureau Pavilion) and return to Wallace Road.
"The turnoff into lot 40 gives us the opportunity to direct more cars away from the campus core and make it safer for pedestrians," said ISU parking division manager Mark Miller.
Consistent look
The design will incorporate a look similar to the university's entrance on University Boulevard. Three red brick columns, landscaping and sidewalk improvements are part of the plan.
"This is part of an effort to identify and sign the university's major entries," said facilities planning and management landscape architect Rhonda Martin.