An estimated 4,900 first-year students who have accepted their admission offers at Iowa State will visit campus for one of 18 orientation sessions scheduled between May 31 and June 28; one-day orientation for transfer students will be held May 30 and June 29.
"We hear through our conversations with them that some, not all, haven't made a final decision yet," said Liz Kurt, director of New Student Programs. "We know that customer service is always very important, and even more so for families still deciding if Iowa State is the right place for them."
Numerous road, utility and building projects this summer will make the service component all the more essential, she said.
During orientation, students meet their academic advisers and register for fall classes, get their ISU email accounts and ID cards, and learn some specifics about their home college as well as academic support and social resources available to them.
There are opportunities to meet with a financial aid adviser and take tours of the library, residence halls or Greek housing network. They'll learn the fight song, what a learning community can offer them, good campus spots for a smoothie or a cup of chai and how their laptop will network with the university IT system.
Orientation will be headquartered on the east side of campus, with check-in at the Hixson Lied Student Success Center and overnight accommodations in Maple Hall. Workshops, activities and tours will be spread across central campus.
Kurt and her team are planning for another record-setting group. Last year, more than 4,800 students participated, and in 2010 about 4,300 would-be freshmen attended orientation.
Here's a quick look at some other large groups visiting campus this summer: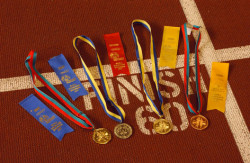 Iowa Special Olympics Summer Games, May 17-19
Nearly 3,000 athletes, accompanied by more than 1,400 coaches and thousands of family members, will compete in soccer, track and field, cycling, swimming, bocce, tennis and developmental events. About 1,100 of the visitors will stay in the Maple-Willow-Larch and Oak-Elm residence halls. Venue sites include the Lied Center and the soccer complex east of it, Forker tennis courts, Beyer Hall, intramural fields east of MWL and the Iowa State Center parking lots. Nearly 1,200 volunteers will assist during the games. The opening ceremony begins at 7 p.m. Thursday, May 17, in Hilton Coliseum; this event and all competitions are free and open to the public.
Odyssey of the Mind, May 23-26
An estimated 800 teams – totaling 15,000 people with coaches and chaperones -- from around the world will visit campus for this creativity/problem-solving competition. They'll compete in four age divisions from kindergarten through college.
The opening ceremony is Wednesday evening, May 23, and the closing ceremony is Saturday evening at Hilton. Teams begin arriving Tuesday morning and will check out of residence halls Sunday morning. Competitions run all day Thursday, Friday and Saturday; competition sites include the auditoriums in Hoover, Kildee, LeBaron and Music halls and the College of Design; the Forker gymnasiums; Pearson classrooms and the Memorial Union ballrooms. The main floor of the Lied center will be reserved May 23-26 for a creativity festival and a NASA e-theatre event will be repeated several times a day in the Howe auditorium. Guests will use every residence hall.
Most recently, OM World Finals were here in 2009 and 2006.
Iowa Girls State, June 17-22
About 300 young women entering their senior year of high school from around the state will meet at the Iowa State Center to study the political process. They'll arrive Sunday morning and depart following an 8 p.m. event Friday evening; they'll live in the MWL residence complex for the week.
Iowa 4-H Youth Conference, June 26-28
More than 900 Iowa teens (ninth graders-to-be and older) come to campus for 60-plus workshops, motivational speakers, community service projects and social events. The focus is on understanding citizenship and developing leadership skills. Students don't have to be 4-H members to attend this conference. Large group events are held at the Iowa State Center; workshops are held in academic building classrooms around campus. Participants will stay in the Richardson Court residence halls.
Iowa Games, summer edition, July 12-15, also July 7-8, July 20-22
An estimated 15,000 athletes, both youth and adults, will compete in 58 amateur sporting events over three weekends. Many, though not all, venue sites are in the Ames area. Campus facilities in use during the event include Beyer and Forker halls, the Lied center, the southeast intramural fields, cross-country course and disc golf course.
The opening ceremony is Friday, July 13, in parking lot S-6 on the east side of Jack Trice Stadium.
Iowa Shrine football game and practices, July 15-21
Ninety-two football players just out of high school, 60 cheerleaders and coaching staffs have been selected to participate in the 40th annual awareness- and fund-raising event for the Shriners Children's Hospitals. Participants begin arriving on campus July 15. They live in the MWL complex, and use the Lied Center and athletics department facilities. The football game begins at 7 p.m. Saturday, July 21, at Jack Trice Stadium; tickets are $15 at the gate, $10 in advance. A pregame parade in downtown Ames begins at 9:30 a.m.
Youth Leadership Forum, July 15-20
An anticipated 60 high school juniors and seniors with disabilities from around the state will attend the forum, which focuses on developing leadership skills, identifying resources that could assist them, learning about various careers and becoming self-sufficient. Their activities will be held in the Union Drive Community Center and the Memorial Union, and they'll live in Martin Hall. A smaller camp of about 20 college juniors and seniors will be held July 27-30, using the same facilities.
National Cheer and Dance Association camp, July 16-19
Up to 170 high school cheer squad members will participate in this training camp. A second, smaller camp of about 100 participants will be held June 25-28. Camp activities will be in State Gym; participants will live in Friley Hall.
Beep Baseball World Series, July 22-28
The championships for this modified game for blind and visually impaired adults will be played on all-grass areas of the intramural fields east of Jack Trice Stadium. About 500 athletes will compete this year, the first time the world series has been held in Iowa. Games between coed teams begin on Tuesday, July 24, and continue through Saturday, and are free and open to the public. Athletes and visitors will stay in area hotels.