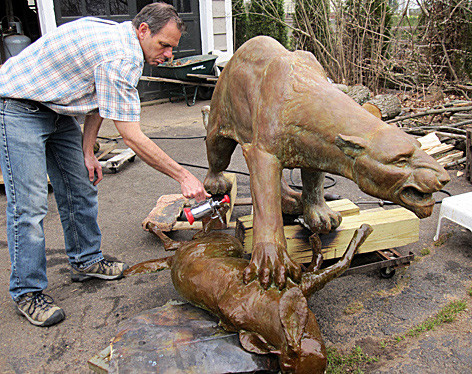 It began in the mid-1990s with a broad inquiry into former artist in residence Christian Petersen's early portfolio, in anticipation of a Petersen retrospective in 2000. It ended – sort of – years and thousands of search hours later on a day in June 2010 when University Museums director Lynette Pohlman searched the website of Middlebury College in Middlebury, Vt.
Voilà! Pictured there was the pair of slightly larger-than-life-sized bronze panthers created by Petersen sometime after 1920. They initially were installed for several decades on stone columns marking an entrance to a private estate near Narragansett, R.I. During her search, she learned they changed hands several times before being donated in 2001 to Middlebury College, whose mascot is a panther.
Christian Petersen (1885-1961)
Iowa State Artist in Residence 1934-55
Aided by private gifts and her goal to develop the world's largest repository of Petersen art, Pohlman successfully negotiated with Middlebury administrators to purchase the sculptures. Last fall, they were removed from that campus and sent to the Connecticut studio of art conservator Francis Miller. He is cleaning them and restoring Petersen's original bronze patina as well as he can. Pohlman said decades of weather and oxidation produced a green patina that can't be removed completely. A semiannual waxing of the sculptures in the future will protect the bronze patina, she said.
Unique parade entry
The university community will get its first look at Petersen's Panthers on Veishea Saturday. Following a trot through the Veishea parade, the sculptures will be installed in the section of the Anderson Sculpture Garden that's east of Morrill Hall.
"Sleuthing" story to be shared April 1
Pohlman and museums guest curator Lea DeLong are just back from a trip east to check up on the panthers and continue to dig for clues on when and for whom they were created. They uncovered some interesting possibilities, but their work isn't finished yet, Pohlman said.
DeLong – the author of four publications about Petersen and whom Pohlman calls a "wonderful research curator" -- will share the story of University Museums' search for the panthers and efforts to own them during a museum talk (PDF) this Sunday, April 1 (2-3 p.m., 1017 Morrill Hall). Her talk is free and open to the public.
"Hers is a sleuthing story," Pohlman said. "I tend to be a more intuitive curator; Lea digs for the facts that prove the story."
Petersen's transition
Pohlman said the extended search for Petersen's felines is not unprecedented in University Museums. There have been other lengthy efforts to locate specific pieces, she said.
But what is it about the panthers – pieces seemingly out of character with much of the art Petersen created at Iowa State – that compelled their long investigation?
"Because he went from being a jeweler and making rings to doing very expressive sculptures," Pohlman said. "To the best of our knowledge, these panthers are the beginning of that great leap."