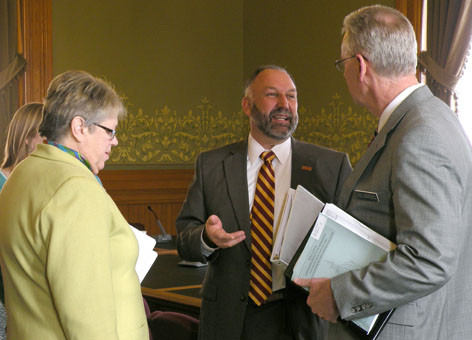 President Steven Leath told legislators Feb. 8 that any increase in state funding for fiscal year 2013 will be used to enhance the student learning experience at Iowa State and to help cover unavoidable cost increases.
In a meeting with members of the legislative joint education appropriations subcommittee, Leath said that Iowa State next fall expects to have a third consecutive record enrollment -- possibly topping 30,000 students -- while state support has been on a downward trend.
"We need your support," he told the subcommittee.
Leath appeared before the subcommittee, with the presidents of the universities of Iowa and Northern Iowa, the president and president pro tem of the state Board of Regents, and the superintendents of Iowa's two special schools.
Craig Lang, president of the board of regents, told the subcommittee the regents are requesting $470.8 million -- a $22 million increase -- in higher education operating appropriations for the year that begins July 1. He noted that state funding for the universities has declined 25 percent since FY09.
"The current trend is one of the state providing less monetary support than our students and their families are providing in tuition dollars," Lang said. "Today, the state provides less than 36 percent of general education funding, with 58 percent funded from student tuition. We would like to begin to reverse this trend."
ISU efficiencies
Leath pointed to numerous steps taken by Iowa State to improve efficiency and accountability during years when state funding was significantly reduced. These included: merging two colleges, reorganizing and merging administrative functions in colleges, closing some research centers and institutes, and merging several information technology departments.
Among the regents' proposals for FY13 is a renewable energy and biosciences initiative that would involve Iowa State as well as the universities of Iowa and Northern Iowa. Leath, noting Iowa State's strong reputation in agriculture and biorenewables research, said the initiative has huge economic potential for the state.
Wednesday's appearance was President Leath's first before the subcommittee, and he told the legislators he was proud to serve as Iowa State's 15th president. He said Iowa State "has a unique and important mission as Iowa's land-grant university," and he outlined achievements under each of Iowa State's three responsibilities to the state of Iowa: providing a superior education to students, conducting research to solve real problems, and extending knowledge through extension and outreach.
"I'm going to work hard to give you confidence in Iowa State University," he said.