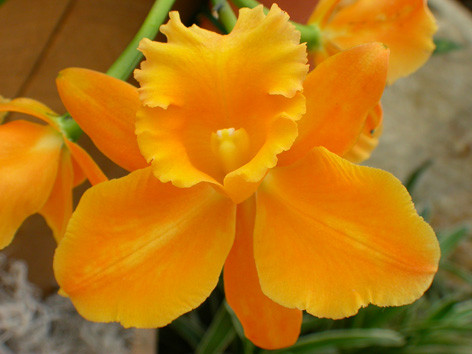 The beautiful, fragrant orchid takes center stage at Reiman Gardens during the third annual Orchid Fest Feb. 11-12 from 9 a.m. to 4:30 p.m., both days. Visitors will enjoy viewing and purchasing a wide selection of orchid plants, plus several other orchid-themed events, including:
An Orchid Affair
Reiman Gardens members also may participate in an Orchid Affair, Feb. 10 (6:30-8 p.m., Reiman Gardens). The reception will feature orchid vendors, hors d'oeuvres and wine samples. Cost is $10; bring a guest who signs up to be a member and you'll both be admitted for $5. Register online.
• Feb. 11-12 (all day) -- A question-and-answer booth, staffed by the Central Iowa Orchid Society, will provide support for novices and experienced orchid growers alike.
• Feb. 11 (10-11 a.m.) -- Dr. Robert Bannister, a Des Moines surgeon and orchid expert, will present "Growing Orchids Under Lights." (Make a reservation.)
• Feb. 11 (2-3 p.m.) and Feb. 12 (10-11 a.m.) -- Tom Hillson, retired ISU employee from the College of Agriculture and Life Sciences, will give a repotting demonstration ($10 additional fee). (Make a reservation for Feb. 11; make a reservation for Feb. 12.)
• Feb. 12 (2-3 p.m.) -- Carson Whitlow, known for his orchid hybrids, will present "Orchids, in General." (Make a reservation.)
Admission to Orchid Fest is free for gardens' members and ISU students. The general public must pay the gardens' regular price of admission.