The Iowa State community will celebrate its greenness -- past and future -- in a Feb. 28 event.
"Sustainapalooza: Celebrating our Cardinal, Gold and Green!" is a shorter version of the sustainability symposiums held the previous three years. It's planned for 4 to 6 p.m. in Memorial Union Great Hall.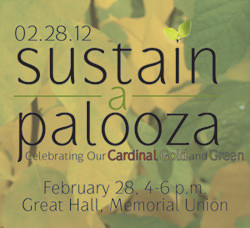 Students, faculty and staff are invited to join the event, which will feature interactive "empowering" stations, a poster reception and an opportunity to walk the "Live Green! carpet." Director of sustainability Merry Rankin and leaders from the university's Council on Sustainability and the student organization The Green Umbrella also will give brief remarks.
"At this event, we'll celebrate our accomplishments since 2008, when former president Gregory Geoffroy established Iowa State's Live Green! initiative," Rankin said. "And we'll look forward as we continue our journey toward a sustainable future."
Poster presentations sought
Student organizations, classes, researchers and others involved in sustainability projects are invited to share their work through a poster presentation, Rankin said. Those interested in developing a presentation should contact Rankin by Jan. 31.

Walk the green carpet
Sustainapalooza attendees will have an opportunity to get a little recognition for their own green deeds.
"Everyone attending will be invited to walk the Live Green! carpet, write their personal Live Green! contribution or commitment on the "Wall of Cardinal, Gold, and Green," and receive a sustainably minded and empowering gift in return," Rankin said.
Get caught green-handed
In a promotional run-up to the event, members of The Green Umbrella student group will wander campus over the next few weeks, catching and photographing students, faculty, and staff committing green and sustainable acts. Rewardable acts might include carrying reusable water bottles, putting newspapers in recycling bins, or riding buses or bikes, Rankin said.
Sustainapalooza is sponsored by the Live Green! initiative, the university-wide Council on Sustainability and The Green Umbrella, which coordinates events and collaboration among sustainability-minded student groups.