Introducing President Leath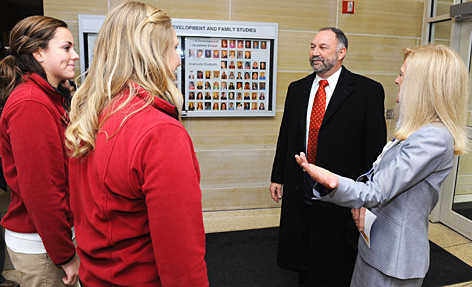 Plant pathologist, pilot, bow hunter, Christmas tree farmer, dad, first baseman, associate ag dean, national program leader, ranch hand. And, Jan. 16, Steven Leath added another title to his life list: university president. He is the 15th person to lead Iowa State.
Leath comes to Ames from Chapel Hill, N.C., where since 2007 he served as vice president of research and sponsored programs for the University of North Carolina system. In the last year, he also served as interim vice president for academic planning for the same 16-campus system.
Since being named Iowa State president on Sept. 27, Leath has spent about 21 days in central Iowa, learning the university and meeting political leaders in Des Moines.
The right fit
The Leath family likes to farm.
While he hasn't lived in the Midwest since receiving his Ph.D. from the University of Illinois in 1984, Leath said earlier this month he believes that Iowa State is a good fit for him and his wife, Janet. A product himself of land-grant universities -- his three degrees all came from land-grants -- he said the "three-legged stool" mission of the land-grant remains very important to him. While some land-grants have moved away from that mission, Iowa State, he said, has not.
So, when the Leaths visited campus in late September, "we realized that not only is Iowa State the type of university we want to be at (large, public, land-grant), it is the university we want to be at," he said.
Leath also was drawn to Iowa State's commitment to undergraduate education. Noting that he wasn't as involved as an undergraduate as he wishes he'd been and that Janet was a nontraditional undergraduate student, he said Iowa State "really takes seriously its mission of educating students and making them successful, and that's important to us."
"It's not just about providing seats in classrooms and giving lectures. Iowa State does a better job of wrapping its arms around students to make sure individual students are successful, that they're engaged in the university, which translates into success."
"That's a credit to the faculty," he added.
The road to 1750 Beardshear
"I did not plan to be a university president," Leath said of his path to leadership. "Maybe these are very strategic, carefully laid out career plans for some, but they weren't for me."
From 1985 to 1998, Leath progressed through the plant pathology faculty ranks at North Carolina State University, Raleigh, where he also researched disease resistance in grains, primarily wheat and oats, in the U. S. Department of Agriculture's Agricultural Research Service (ARS). Though not required (he had a 100 percent research appointment), he taught or presented lectures nearly every semester "because I had an interest in teaching."
When the leader of Leath's ARS research group retired, he asked Leath to take over, which he did, in a position analogous to a department chair. Two years later, the USDA invited him to Beltsville, Md., to serve as acting national program chair for grain crops. He took the job, but wasn't ready to move his family yet to the Washington, D.C., area.
Within months, N.C. State leaders succeeded in luring him back to Raleigh to serve as assistant director of the state ARS. Within two years (2003), he advanced to the director's post of the North Carolina ARS and also became associate dean of N.C. State's College of Agriculture and Life Sciences. In 2007, North Carolina system president Erskine Bowles brought him to Chapel Hill for the vice president post.
"He said I had a campus reputation for getting input, making a decision and implementing it, and that's what he wanted," Leath recalled.
Leadership: Remove the obstacles
Leath readily admits that he's "never been shy about making a decision." But, he added, "we want to be thoughtful and we want to get it right."
He credits good mentors and some very good executive leadership training programs for his success as an administrator. He also has learned a thing or two along the way:
Recruit and retain good people. "I don't see how you can be successful as an administrator if you don't have really good people working with you. And I've been very successful in that sense."
Focus on the success of others. "If that can be a motivator, it is often a way to become an effective administrator. I take a lot of satisfaction from the success of others. That's really what administration is about: Removing obstacles and empowering people and enabling them to be successful."
Midwestern roots
A 2-year-old Leath moved with his family from Providence, R.I., to St. Paul, Minn., where he, two brothers and a sister enjoyed a typical upper Midwest childhood. They ice skated, walked to school, gardened, visited the state fair and took summer fishing trips in Minnesota and Wisconsin.
Not so typical, perhaps, was the research experience the Leath youngsters acquired in their early years. Leath's father, Kenneth, a graduate student in plant pathology at the University of Minnesota, tended research projects in greenhouses and field plots nights and weekends. The children routinely would tag along with their dad and help.
Kids in the lab
"We were exposed to agriculture and ag research pretty much weekly," Leath said. "We'd even measure the diameter of fungal colonies in petri dishes when we were just little kids."
When his father completed his degree and took a position at Pennsylvania State University, the family moved to rural State College, where Leath attended junior high and high school. He played baseball and wrestled and worked in the produce department of a local grocery. Leath said he also spent a lot of time in the mountains of central Pennsylvania fishing and hunting "deer, rabbits, pheasants and, at that time of my life, just about as often as I could."
A good school and a nice tuition incentive for the children of faculty prompted Leath to enroll at Penn State.
"I was more of a worker than anything," he said of his undergraduate years. The young plant sciences major kept busy doing research for an oat geneticist, working on horse, beef and sheep farms, and weekend bartending.
Early Iowa encounter
Leath also spent a couple of undergraduate summers working on a big cattle ranch in north central Nebraska. On Memorial Day weekend in the summer of 1976, he was cruising across Iowa en route to the ranch when he ran out of gas.
"I wasn't sure what to do," he said. "It was a holiday weekend and there were no convenience stores back then. But an Iowa farmer saw the car broken down, drove up his lane, filled me up and didn't take any money. He said all he wanted from me was a promise that if I saw someone else in that situation one day, I'd help. I had a fondness for Iowa after that, and I have tried to do as I promised."
Leath chose the University of Delaware for his master's studies. He describes Delaware as a "great experience" for several reasons -- a small grad school that brought related disciplines together and diversified his scientific base, an adviser who was a great role model . . . and Janet.
He met her while teaching an introductory plant pathology lab. She was a nontraditional student who'd gone back to school at 21 and the two "more mature" students found much to talk about during and after the lab. When the semester ended, they began dating.
"I actually told my adviser about it to make sure everything was cool," Leath said. It was. The two were married in the summer of 1981, then headed to Illinois, where Leath earned his doctorate in plant pathology.
Then it was on to North Carolina, where Leath began his university career, Janet built a thriving insurance agency from scratch and their two children were born.
Eric, now 24, is on the staff of U.S. Sen. Richard Burr, North Carolina. He works on health, education, labor and pension issues for the senator. Eric double-majored in finance and accounting at North Carolina State.
Scott, 21, a junior in management at Appalachian State University, Boone, N.C., spends considerable time working on the family tree farm in nearby Ashe County.
Hunter and pilot
If he finds a free moment or two, Leath said he'll try to fit in some bird hunting and bow hunting ("my two big passions"). He also hopes to get in some flying. He learned to fly single-engine planes through a North Carolina flying club.
"I like to fly," he said. "Sometimes when I'm going places [on business], I'll fly myself."