Ann Marie VanDerZanden, associate provost for academic programs and professor of horticulture, has been reappointed to a five-year term beginning July 1. She was first appointed to the role in 2017.
In making the announcement, senior vice president and provost Jonathan Wickert praised VanDerZanden's numerous accomplishments over the last five years, including her leadership during the COVID-19 pandemic.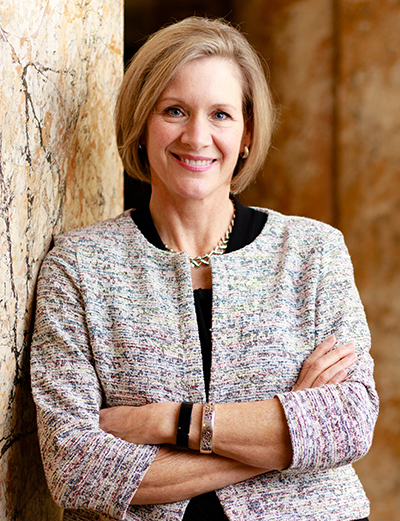 "Ann Marie has done a tremendous job sustaining Iowa State's academic mission," Wickert said. "She is a driving force for high quality instruction, student engagement and success, and developing new programs that both satisfy student demand and address the state's workforce needs."
Over the last five years, VanDerZanden has led a broad effort to sustain and improve Iowa State's academic programs. Her achievements include leading the academic continuity working group to address challenges created by COVID-19, co-leading the team that created winter session, completing the university's mid-cycle review from the Higher Learning Commission and working with colleagues on initiatives related to open educational resources, academic advising and online learning. She also works closely with the Faculty Senate on academic policies and processes, including curriculum development.
"It is a privilege to work with so many people on campus who share a common passion for academic excellence and success," VanDerZanden said. "I look forward to continuing this work over my next term to strengthen Iowa State's online capabilities, improve student success in gateway courses, and address equity gaps related to retention and completion."
As associate provost, VanDerZanden provides leadership for Iowa State's academic programs. She facilitates articulation agreements with community colleges and leads university efforts related to accreditation, continuous quality improvement, distance education and international programs. She also has oversight of the program for women in science and engineering, study abroad center and university honors program. She serves as an Iowa State representative to the Business Education Alliance.
A member of the Iowa State faculty since 2003, VanDerZanden has served the university in a variety of roles, including director of the Center for Excellence in Learning and Teaching (2012-17) and co-director of the learning communities program.
A native of Washington, VanDerZanden earned bachelor's and doctoral degrees from Washington State University, Pullman, and a master's degree from Cornell University, Ithaca, New York, all in horticulture. She is a fellow of the American Society for Horticultural Science and a past president of the North American Colleges and Teachers of Agriculture.