From beets to zucchini, the Growing Together Iowa project helps counties combat food insecurity by donating produce grown in community gardens to food pantries.
Perishable and relatively expensive, fresh fruits and vegetables are the most requested items at pantries, said Katie Sorrell, ISU Extension and Outreach policy, systems and environment change coordinator.
"The ultimate goal of Growing Together Iowa is to make the healthy choice the easy choice for low-income Iowans," she said.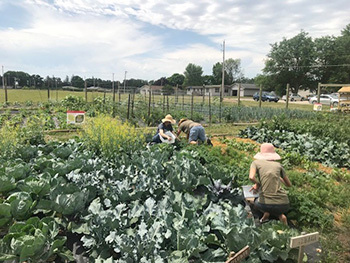 Each year, extension offices apply for mini-grants ranging from $2,200 to $4,000. Those funds are used to plant community gardens led by Master Gardeners, who partner with food pantries in their communities. Growing Together Iowa is funded by the U.S. Department of Agriculture Supplemental Nutrition Assistance Program (SNAP) and ISU Extension and Outreach.
Community gardens continue to grow in counties across the state, increasing from 14 in 2016, the first year of the project, to 33 this year. That effort was recently enhanced with an $85,000 gift from Amerigroup, a health insurance and managed health care provider.
"Normally, we use SNAP education funds to pay for all the expenses of the gardens, but the money from this gift will be pushed out to the 33 counties in the mini-grant program and cover those expenses," Sorrell said. "At the national level, SNAP-ed funding was cut a little, so this protects the program into the future."
SNAP education funds support evidence-based nutrition education and obesity prevention interventions and projects. The Growing Together Iowa project provides nutrition education at the gardens and pantries.
The gardens
Gardens vary in size and produce based on community needs and volunteer availability. Sorrell said food pantries help determine what to grow, with one community emphasizing beets for its significant Russian population.
"Every county in Iowa is unique, so our goal is for the end user to dictate the project," Sorrell said.
Master Gardeners lead the project but receive help from ISU faculty in horticulture, food safety and nutrition education. Graduate students also conduct research and evaluation on the project each year. Volunteers come from all walks of life, ranging from high school students to senior citizens.
Work on the gardens begins in February with the ordering of seeds, erecting fencing and constructing raised beds. Gardens can be found throughout a county -- at an extension county office, fairgrounds or a college campus.
Sorrell said the pandemic emphasized the need for gardens with an increase of people utilizing food pantries for the first time. The gardens also provided a sense of community in a time when face-to-face interaction was limited.
"For people who are more vulnerable, the gardens gave them a chance to see others outside while still physically distancing," she said. "We actually saw an influx of volunteers during the pandemic."
Impact
Over the past five years, Growing Together Iowa donated 441,000 pounds of fresh produce, and the financial gift will allow gardens to donate another 110,000 pounds.
The project has garnered attention across the Midwest.
Michigan State University, East Lansing; Purdue University, West Lafayette; University of Illinois, Urbana-Champaign; University of Nebraska, Lincoln; University of Wisconsin, Madison; and Montana State University, Bozeman -- land-grant universities -- have joined the Growing Together project.
Each university collects the same data, allowing it to be shared and learned from.
"We were the model that other states have followed and set up the mini-grant donation garden project," Sorrell said.