As we begin our seventh month as a university community operating in a global pandemic, Inside asked faculty and staff to share light-hearted moments from their lives that help them make the best of a less-than-best situation. Here are a few of the Cyclone silver linings we received from readers.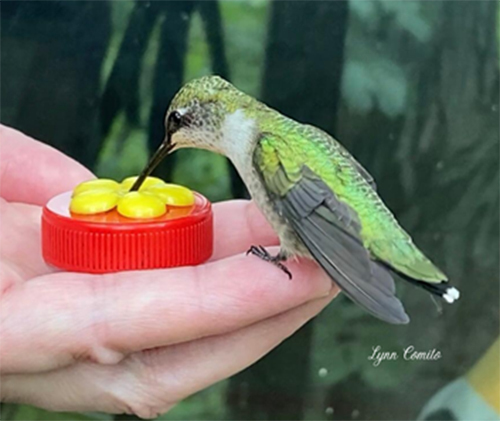 Lynn Comito, who serves as conflict of interest and commitment administrator in the office of research ethics, also is a bird enthusiast.
"Seeing ruby-throated hummingbirds at our feeders and hearing their cheerful chatter brightens my days," she wrote. "I recently sat outside with a hand-held feeder, and hummingbirds perched on my hand to feed, a first for me and a highlight of my summer."
Jessica Bell, project manager in the Grants Hub, wrote about several daily bright spots.
"It's been a joy to be able to have lunch with my husband, something that was not possible pre-COVID. Eating lunch on our deck has provided us the opportunity to enjoy some fresh air and sunshine," she wrote. "Finally, my feline co-worker demands personal attention now and then, reminding me to take a break from the screen!"
Bob Currie, director of facilities services in facilities planning and management, said he emails memes or some form of encouragement every Wednesday and Friday to the members of his management and operations teams. He credits his wife, College of Liberal Arts and Sciences fiscal officer Venita Currie, with starting the practice and sharing items with him.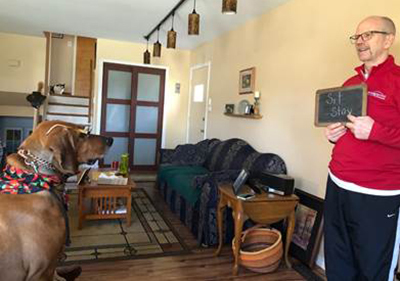 Kathy Parsons, associate professor and head of the preservation and stacks management department in the library, said the pandemic has strengthened a long-distance sibling relationship. Parsons wrote that she and her Chicago-area brother (also an educator) exchange short texts with a photo of something funny or interesting.
"Since the first exchange (pictured right, which her brother captioned "Teaching Old School"), we have rarely gone more than a few days without sharing photos and messages about trees, flowers, birds, animals, buildings and other unique things we spot."
Parsons said they also started a weekly video meetup for various card, dice and board games.
"Most of the time we play online, but sometimes we are playing with the same physical game mirroring what is happening 360 miles away," she wrote. "I hope these exchanges and meet-ups will be part of our post-pandemic norms."
Stacy Joiner, partnership specialist for the Critical Metals Institute at Ames Laboratory, wrote that she, Susan Elsner and Cynthia Feller, who are 25-year friends because of their jobs on campus, took part in the ISU Alumni Association's virtual craft event Aug. 20. The three friends were able to get together, socially distance and relax while completing craft kits they picked up in advance.
Not incidentally, Joiner's email signature ends with "Be Safe. Be Well. Be Positive. Be Hopeful."