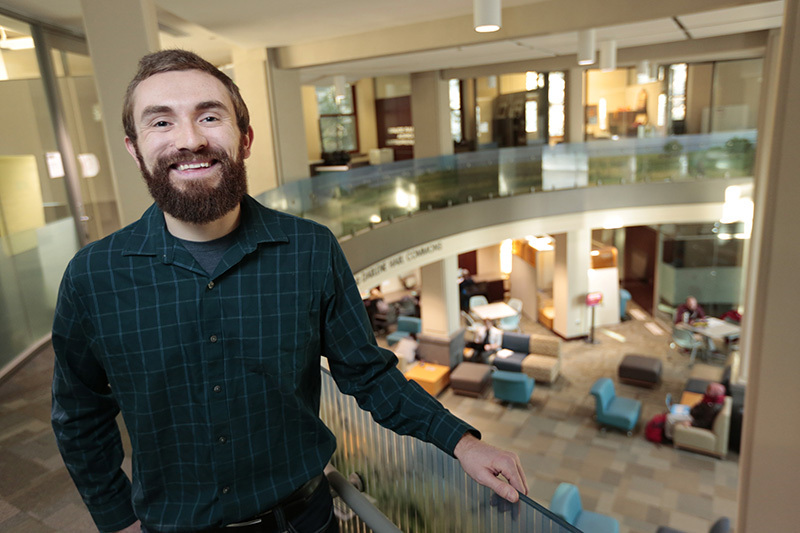 Clayton Mooney left Iowa State as an undergraduate student three times, just once with a degree. But the experiences gathered after repeated departures all help inform his current work at the university, where the former professional poker player and co-founder of two burgeoning ag-tech startups is a junior entrepreneur-in-residence who runs the Agricultural Entrepreneurship Initiative (AgEI) student business incubator. He's also a volunteer assistant coach with the Iowa State Boxing Club.
In 2009, as a junior in business economics planning to go to law school, he dropped out to play online poker. A federal crackdown on poker websites drew Mooney back to Iowa State in 2011-12 for a four-semester push to complete an English degree. He took up boxing during a brief stint in Denver working at Dish Network's corporate office, but cards kept calling. He moved to Ireland to play poker for another year, becoming intrigued by the country's startup scene and continuing to spar. When his visa expired in 2014, he returned to Blakesburg, his hometown in southeast Iowa, and decided to stay in the state due to family health concerns.
The basics
Name: Clayton Mooney
Position: Junior entrepreneur-in-residence, Agricultural Entrepreneurship Initiative
Time in position: 1.5 years
Education: Bachelor's degree in English, Iowa State
Contact information: cdmooney@iastate.edu
Back at Iowa State seeking a second bachelor's degree in global resource systems, he helped form two companies he's still working to build: KinoSol, a member of the first CYstarters cohort in summer 2016, and Nebullam, which was in the second ISU Startup Factory cohort last year. He also co-founded the Des Moines-based Young Entrepreneur Convention. In fall 2016, Mooney again dropped out to focus more on his businesses, taking the part-time entrepreneur-in-residence position to oversee an incubator he'd been involved with as a student just months before.
What is the student business incubator?
Right now, the AgEI incubator is the only student business incubator on campus. We have students from multiple colleges in it. It's essentially working on the beginning steps of your business model -- understanding that before you put time and money into anything, you need to figure out who your customer is. So we spend an entire semester on customer discovery. From there, leading into following semesters, you figure out if your product or service needs to be prototyped. One of my personal goals with the incubator is for cohort members to have revenue by the time they graduate. Ideally, you want them to launch straight into their business full-time. If they put it on pause, the likelihood of them coming back to work on it decreases drastically.
What are some of the chief misconceptions for students who want to work on a startup?
I think the most common mistake I see is people come in with a business idea a little beyond the napkin stage. They may have talked about it with a couple friends. They may have had a friend join them as a co-founder. And they're so excited to get going because they just know this product is going to change the world. They want to build the product. But then the big question is, "Who is your customer?" The No. 1 reason I see startups fail is product-market fit. Either the pricing was way off, or the people who they thought would be the customer are not the customer or couldn't be the decision-maker. With the customer discovery portion, we force them to get out and talk with strangers they have no connection with and say, "OK, what are your problems today, and how are you addressing these problems?" They can't mention their product or service. They often come back and say, "Dang, maybe there isn't a market for it."
Is there a common thread between startups, poker and boxing?
I truly believe poker prepared me well for the startup space. There were two things I took away from poker: a high pain/high risk tolerance and critical thinking. With online poker, I got to where I was playing 40 tables at once, so about 3,000 hands an hour. That helped me prepare for the chaos of a startup. Getting back to Iowa and jumping head-first into startups, everything I noticed others worrying about I had somewhat experienced with poker. Where it all starts to circle around to boxing is that startups, just like poker, are very stressful. You know, you've only got 41 days of money left, and you've got to figure out something to do. Boxing is my outlet, going in there and essentially getting beaten up. It takes away your worries after a rough day in the office. But also, in today's day and age, there's so much noise. I'm always plugged in. Boxing teaches you to really just have one thing to focus on. In the ring and sparring, if I'm thinking about, "Did I send that email?", I'm going to be physically beaten. It forces me to live in the moment, which I think a lot of people are in search of.
You have lessons you can relay to students from working on your startups, but does it go the other way, too?
That's right. I'm in that weird phase where I'm young enough where students can relate to me, but I'm old enough I can relate to faculty. The big thing I try to convey to students is: Here's my story. I messed up a lot. Don't look to me for academic advice. I am in no way an expert. I'm learning as I go. What's beneficial is the timeframe. I'm really only a couple years ahead of them. Some of the questions I receive on a weekly basis, one of my ventures may have run into just six months ago. I can at least say, "This is my opinion," or "This is how we handled it." I've noticed it helps a lot.
In the academic realm, failure is often seen as the worst thing that can happen. But that's not necessarily the case in a startup. Is it difficult to square those notions?
If had to go around campus and deliver public forums, it would be on embracing failure the right way. Honestly, poker taught me this. Do not be results-oriented. I know that sounds really crazy because every good thing that happens you go, "Oh this is the result of hard work and studying and everything paid off." When you're playing a hand of poker, you have to know what statistically you're supposed to do. Sometimes it works, sometimes it doesn't. If you're results-oriented, that is going to beat you down into the ground until you quit. I've seen it with dozens of poker players. I've seen it with dozens of business founders. You run into those brick walls. You played everything perfectly, and it doesn't matter. Not being results-oriented leads to making the best decision at any point in time. Long-term, it will pay off.