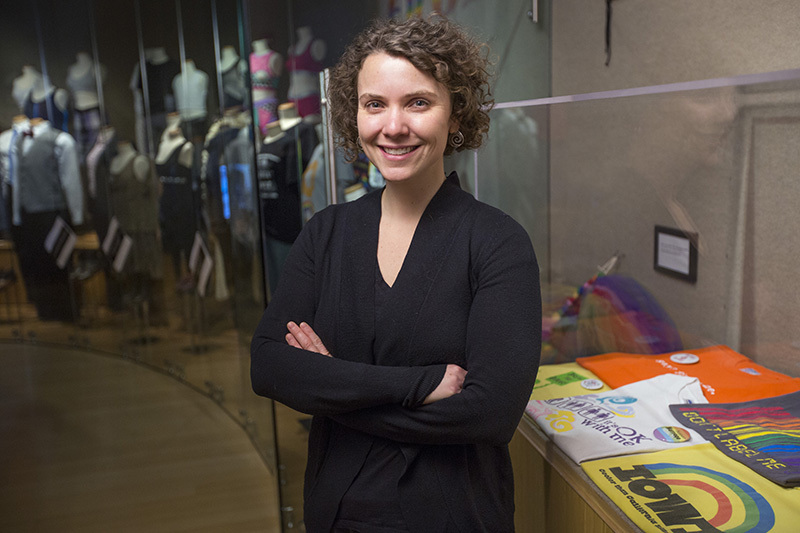 New coursework
Reddy-Best is teaching a new course this semester, Queer Fashion, Styles and Bodies (Apparel, Merchandising and Design 458x/558x), where students are studying some of the items from the "Queer Fashion and Style" exhibition. They also are exploring how the fashion industry is responding to LGBTQIA+ fashions and style. The class was created with grant funds from the university's Diversity Course Development Initiative Program.
A desire to bring more attention to LGBTQIA+ fashion prompted Kelly Reddy-Best, assistant professor in apparel, events and hospitality management, to apply for an Inclusion Initiatives Grant -- a program funded by the office of diversity and inclusion to help foster community engagement at Iowa State. Reddy-Best's proposal last year for a fashion exhibition received $3,700.
"Queer Fashion and Style: Stories from the Heartland" runs through April 14 in Morrill Hall's Mary Alice Gallery. The free exhibition features recorded interviews with 12 LGBTQIA+ women from the Midwest, ages 30 to 50. Most of the exhibition's 98 articles of clothing are either borrowed or donated from their closets. Other pieces came from local individuals and the museum's permanent collection.
Reddy-Best, who co-curated the exhibition with Eulanda Sanders, the Donna R. Danielson Professor in Textiles and Clothing and department chair of apparel, events and hospitality management, said the exhibition focuses on the women's personal stories and the "why" behind their clothing choices.
"The displays, or looks, in the exhibition come from the interviews," Reddy-Best said. "The idea is that some LGBTQ women are more masculine-centered, others nonbinary or genderqueer, and still others are more feminine, who might feel their clothes aren't queer enough."
Reddy-Best said that without the stories that go with the displays, the clothing might seem as though it could belong to anyone. "But when you hear the interviews, the clothes have a significant meaning within those contexts," she said.
The campus community is invited to attend the exhibition's opening reception on Feb. 8 (5-8 p.m., 1015 Morrill). Reddy-Best and graduate assistant Dana Goodin will speak about the exhibit from 5:45 to 6:15 p.m. in 2019 Morrill.