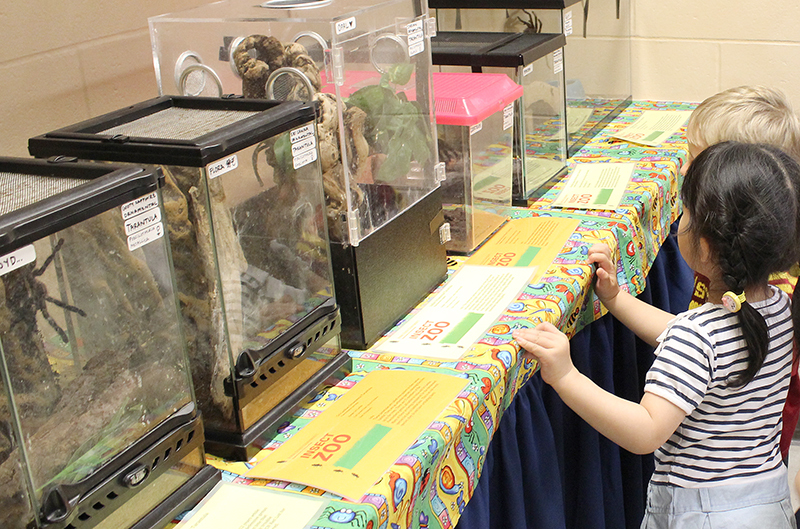 A family-friendly event that debuted last year was so popular that bigger quarters were needed this year. With more than 800 visitors to the Insect Zoo's open house in 2015, this year's "Bug Village" will be held in the Molecular Biology Building's atrium on Saturday, Aug. 27 (11 a.m.-4 p.m.).
"We believe that we will more than double the attendance this year," said Ginny Mitchell, education program coordinator in entomology. "With the anticipated turnout, we moved it into a bigger space."
This year also brings special guest and noted "Bug Chef" David George Gordon to the event. Gordon, who authored the Eat-a-Bug Cookbook, will use insects in his cooking demonstrations. A crew will be filming Gordon and open house activities for a segment on the "National Geographic Explorer" documentary series.
"They will be getting peoples' reactions to eating bugs -- talking to them about entomophagy and how it can become more accepted in the western culture," Mitchell said.
About 20 faculty, staff and students volunteer for the day's activities, which include an interactive display of more than 85 live species, cockroach races (complete with a track), maggot art and "Leonardo Da Roachy" painting. Short films featuring insects will be playing in the Insect Zoo theater throughout the event. Insect Zoo T-shirts ($15), bumper stickers ($5) and live Madagascar hissing cockroaches ($5) will be available for purchase.