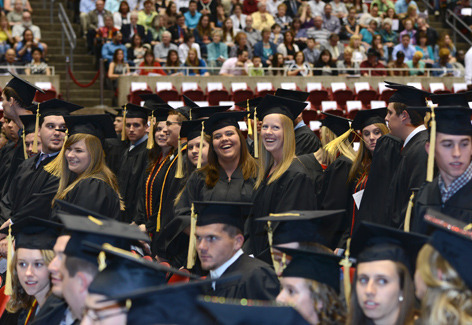 An estimated 1,792 students are completing their Iowa State degrees this semester. Many of them, as well as some students who finished degree programs last summer, will be recognized during an all-university commencement ceremony Saturday, Dec. 20 (1:30 p.m., Hilton Coliseum).
Students on schedule to finish degrees this week include recipients of 1,465 bachelor's, 216 master's and 111 doctoral degrees. Tickets are not required for the ceremony.
Honorary degree
During the ceremony, Cedar Falls native and U.S. State Department attorney Stephen Rapp will receive a Doctor of Humane Letters from Iowa State for his leadership in prosecuting individuals for crimes against innocent people. Rapp also will give the commencement address.

Since 2009, Rapp has served as the U.S. ambassador-at-large for war crimes issues in the state department's Office of Global Criminal Justice. He advises the secretary of state and under secretary of state for civilian security, democracy and human rights, and works to formulate U.S. policy on prevention, response and accountability for mass atrocities.
Previously, in the United Nations' Special Court for Sierra Leone, beginning in 2007 he prosecuted former Liberian president Charles Taylor and others responsible for atrocities committed during the Sierra Leone civil war (1991-2002). In 2001, Rapp joined the International Criminal Tribunal for Rwanda, serving as lead prosecutor in a trial of three Rwandan media executives. He successfully prosecuted them for inciting fellow Hutus to commit genocide on Tutsis and Tutsi sympathizers in the spring and summer of 1994.
Rapp is a former Iowa legislator (1973-75, 1979-83) and former U.S. Attorney for the Northern District of Iowa (1993-2001). Faculty members in the anthropology department nominated Rapp for the honor; the state Board of Regents approved the request last March.
College events
Iowa State's colleges will honor their graduating students during separate convocations and receptions, Dec. 19-20. At approximately 4 p.m. Saturday, following the all-university ceremony, ISU Alumni Association staff and Cy will host a free reception for all graduates and their families at the ISU Alumni Center.
Social media, video feed at graduation
The registrar's office invites graduating students, family and friends to participate in a live Twitter feed before and after the ceremony (tweets won't be posted during the ceremony). Include #cyclONEgrad in your tweet and it may appear on the big screen in Hilton. Graduating students are asked to not bring their mobile devices to the stage. Those who can't attend the ceremony and don't have a Twitter account may follow the conversation on the #cyclONEgrad Tagboard site.
The university will stream a live video of the ceremony on the registrar's graduation website. A video replay will be available on the same site by Dec. 23.