Lynn Fuhrer
The lodge is named for Lynn Fuhrer, an Iowa State College student who was killed in a car crash prior to his graduation in 1930.
If your office or department is planning a retreat or needs a place to hold a small-group function, there's a new option nestled in the woods north of Ontario Street.
The newly refurbished Lynn Fuhrer Lodge, originally built in 1931, is surrounded by timber that is crisscrossed by hiking paths. ISU purchased the building and property (about 17 acres) from the Des Moines YMCA for $120,000 in 2012. It sits adjacent to Veenker Memorial Golf Course and the Applied Science Complex.
The Division of Student Affairs manages the space, which has a 40-person capacity. The dark-stained exposed beams in the vaulted ceilings complement an ornamental stone fireplace that serves as the focal point of the meeting room.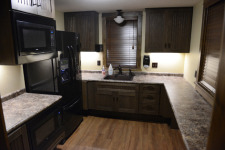 Amenities
The lodge has two bathrooms, a small kitchenette (sink, refrigerator and two microwaves) and full audio/visual capabilities, including a projector and screen. Wireless Internet access also is available. The space can be configured for a variety of events, with a set of chairs and seven rectangular tables.
Groups are allowed to bring in food and beverages (a list of approved vendors and caterers is available), but must clean up and remove the trash from the property after the event to avoid a fine.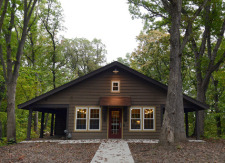 Getting there is half the fun
There is space for only 10 vehicles near the lodge (including two handicap-accessible spots), so carpooling is advised. The property's access road is located in a residential neighborhood. It is a well-hidden gravel path between two houses at the second (east) intersection of Kingman Road and Amherst Drive. Five more parking spots are available off Scholl Road, which provides hiking trail access to the lodge. Directions (PDF) to the facility are online.
How to book it
Reservations are free, and must be made at least 72 hours in advance. Priority is given to student organizations. The facility is available weekdays, 6 a.m.-11 p.m., and 9 a.m.-9 p.m. on Saturdays and Sundays. Keys must be picked up and returned to the Student Activities Center (SAC) in the Memorial Union's East Student Office Space. Contact SAC (lodge@iastate.edu) for more information.