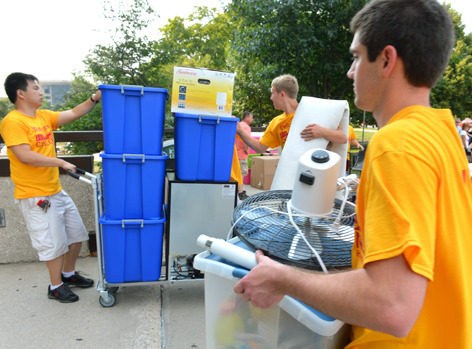 Fall semester may be more than a week away – the first day of class is Aug. 25 – but students have been returning to Ames for several weeks now. The pace picks up when student apartments, including off-campus apartments leased to Iowa State, open for move-in on Saturday, Aug. 16. Iowa State residence halls open for new students on Tuesday and returning students on Thursday. Student meal plans begin at lunch on Tuesday.
Destination Iowa State, a multi-day welcome event for freshman and transfer students, kicks off with a picnic dinner Thursday evening, Aug. 21, in the Iowa State Center courtyard, and concludes with a hypnotist show (9 p.m., Hilton) and a new event, late night 'Recreation Nation' (10:30 p.m.-midnight, State Gym) on Saturday, Aug. 23. In between – and in teams of about 15 students -- are educational sessions, team meals, community service projects and nightly large group events to help students transition to college life, meet classmates and get to know their campus.
Destination Iowa State staff are preparing for 5,500-plus freshman and transfer student participants this year.