Moving in is a team effort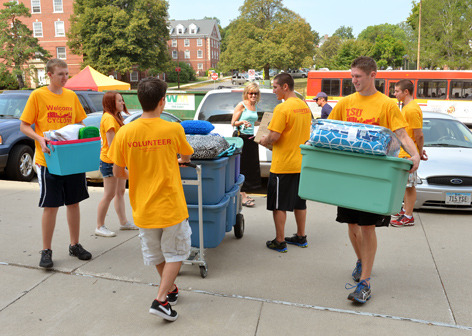 The superheroes of back to school are the moms, dads and older or younger siblings who help our students relocate their lives for the academic year. In the case of Iowa State, it's also the 971 student volunteers (pictured, above, in the yellow T-shirts) on move-in crews – a whopping 30 percent leap over last fall's volunteer army. Frequently, ISU administrators (pictured below are President Steven Leath; his wife, Janet Leath; and senior vice president for student affairs Tom Hill) and coaches make the rounds to say hello. Below, Cyclone head women's basketball coach Bill Fennelly welcomes a family to Maple Hall.
With the addition of two new apartment buildings in Frederiksen Court, the Legends tower in Campustown and four buildings on Maricopa Avenue in southwest Ames, the residence department will welcome more than 11,200 students to "campus" housing this month. Apartments opened for move in on Aug. 17.
Freshmen had Tuesday or Wednesday move-in appointments, giving them time to get settled before Destination Iowa State events begin Thursday evening. DIS, which concludes Saturday night, features social events, information sessions and community service – all designed to acclimate new students to campus and to Ames. Fall semester classes begin Monday morning.
Photos by Bob Elbert.