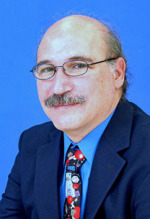 Thomas Lograsso has been named interim director of the U.S. Department of Energy's Ames Laboratory.
Lograsso will succeed Alex King, who is stepping down to lead the laboratory's Critical Materials Institute, a $120 million DOE Energy Innovation Hub announced in January. Lograsso will assume the Ames Lab directorship as soon as funding for the Critical Materials Institute is received.
"We have had exceptional leadership of the Ames Laboratory under Alex King, and I am confident Tom will maintain the lab's momentum as we search for a permanent director," said Jonathan Wickert, senior vice president and provost.
A search committee will be formed in the coming weeks with the goal of naming the lab's next director in 2014. The committee will be led by Mufit Akinc, professor of materials science and engineering; and Cynthia Jenks, assistant director for scientific planning and division director of chemical and biological sciences in the Ames Laboratory.
Lograsso holds bachelor's, master's and doctorate degrees in metallurgical engineering from Michigan Technological University. He has served as an Ames Laboratory scientist since 1988, and is currently interim deputy director and division director of materials sciences. He also is an adjunct professor of materials science and engineering at Iowa State.
Lograsso's research interests include phase transitions in materials, quasicrystalline alloys, and the creation of new metallic alloys and compounds. He holds six patents, and is the author of more than 270 peer-reviewed articles.
The Ames Laboratory is a U.S. Department of Energy Office of Science national laboratory operated by Iowa State. The Ames Laboratory creates innovative materials, technologies and energy solutions, using its expertise, unique capabilities and interdisciplinary collaborations to solve global problems.