VanDerZanden reappointed as CELT director
The office of the senior vice president and provost has announced Ann Marie VanDerZanden's reappointment as director of the Center for Excellence in Learning and Teaching (CELT). VanDerZanden, a professor of horticulture, will serve a second five-year term. She was first appointed to the post in January 2012.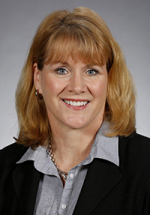 "Ann Marie has elevated both the quality and consistency of teaching at Iowa State through her service as director," said senior vice president and provost Jonathan Wickert. "Her work, and that of the entire CELT team, creates positive learning outcomes and enhances academic success for every student."
During her first term, VanDerZanden:
Worked to establish CELT's Online Learning Innovation Hub, which supports all aspects of online and blended learning
Created new workshops and professional development programs to foster inclusive classrooms
Reconfigured and expanded programs for new faculty
Developed collaborative partnerships with campus entities involved in classroom design and renovations
Led a complete redesign of the CELT web presence and online resources
"It is a great privilege to continue serving as director," VanDerZanden said. "I look forward to collaborating with my colleagues, both in CELT and across the university, to support and recognize teaching excellence, and to create new programs that help students get the most from their Iowa State education."
VanDerZanden joined the Iowa State faculty in 2003 and is a fellow of the American Society for Horticultural Science. She has won numerous awards for her teaching, including the 2016 Teaching Award of Excellence from the North American Colleges and Teachers of Agriculture.
Associate provost for faculty Dawn Bratsch-Prince expressed thanks to the review committee, chaired by Greenlee School associate professor Jay Newell, which managed the comprehensive CELT director review process. Participants in the process included the CELT advisory board, department chairs, Morrill professors and CELT staff.