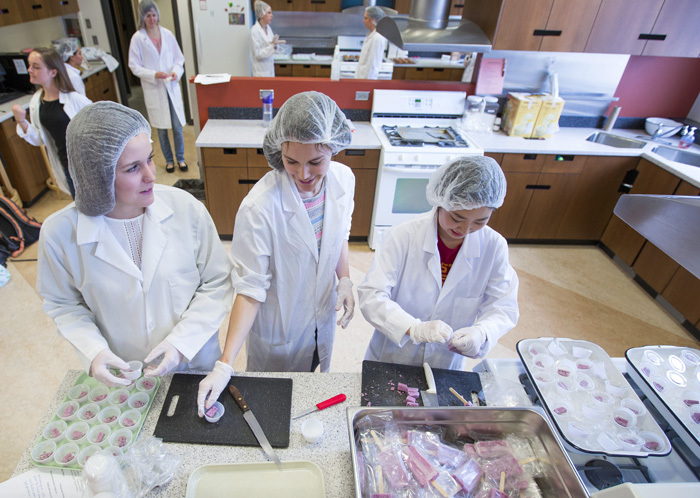 Vegetable-mango gazpacho. Crunchy sweet potato cereal. A frozen dessert-on-a-stick containing coconut cream, multiple fruit juices, chia seeds and chocolate chips. Mango snack sticks with a habanero-cashew dip. Such were the offerings at this spring's new foods showcase, hosted May 2 by students in FSHN 412. In teams of three to four, Lester Wilson and Ken Prusa's 41 students developed 11 new food products in less than 15 weeks.
Last week, the teams tested their products with nearly 20 food industry professionals, so Monday's event was a chance to share their efforts with friends and schoolmates. The assignment? Develop a recipe for a new food product, paying attention to what's trending in health and tastes; scale it up to 50 packages' worth and prepare it for commercial distribution, including packaging and pricing.
Culinary science senior Katelyn Decker was part of a trio sharing samples of a soy-based (i.e. protein-packed) lemon and blueberry toaster waffle. Nice work for a team that spent the first nine weeks of the term trying to develop a tofu-derived dry pancake mix. Too much moisture in tofu and too little time left in the semester forced them to reset their sights on a frozen (and delicious) waffle product.
"Tofu is a market trend and fits the vegan lifestyle," Decker explained about their tenacity. "But we hit a lot of 'no, no, no's' this semester, until finally we got our 'yes!'
"It was a very challenging semester, but we definitely learned a lot. And we conquered a lot of obstacles together," she added of her team.