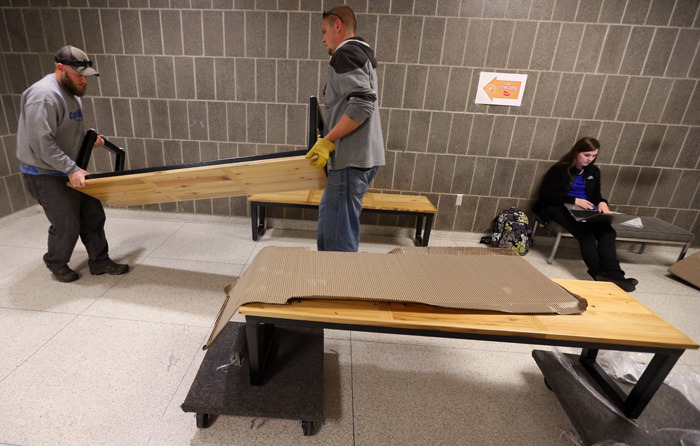 The hallway waiting game got a little easier for students this month in eight campus buildings. Campus services crews installed 178 benches in hallways in Carver, Coover, Gilman, Hoover, Howe, Lagomarcino, Pearson and Physics halls, with another 22 to be placed soon. The benches, produced in state by Iowa Prison Industries, make use of cypress wood that formerly served as patio fencing at University Village student apartments.
The intent is to provide attractive hallway seating for students waiting for classes or exams while helping declutter hallways.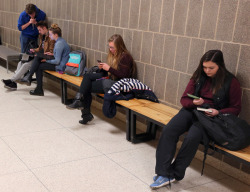 Two hundred more benches have been ordered and should be delivered to campus early in the spring semester, according to construction manager Nathan Graves in facilities planning and management. Most will contain cypress wood; a limited number will be made from the wood of a scarlet oak tree that once stood southeast of the campanile and was dried and processed through the university's TreeCycle program.
Last spring, FPM director Dave Miller grabbed hold of the idea to provide more corridor seating for students, particularly in buildings with heavy classroom use. An FPM team designed a bench and IPI produced a prototype. Miller sought funding help from all corners of campus, with good results. However, funding still is needed for about 100 of the benches. Unit administrators who'd like to help should contact Miller.
Crews are distributing the benches to building locations based loosely on the number of general university classrooms, student credit hours delivered there and space availability in corridors. Graves also is working with building tenants and ISU asset recovery to try to remove some of the old hallway furniture as new benches arrive.
Related story:
Team effort could provide 400 hallway benches for students, May 7, 2015