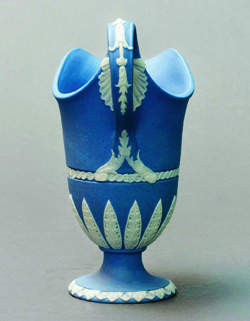 Cream Jug (pictured), is one of approximately 200 Wedgwood ceramic pieces in a current Brunnier Art Museum exhibition, "Beauty Through Experiment." The exhibition includes recently acquired pieces of former faculty member M. Burton Drexler.
Museums assistant curator Adrienne Gennett will lead a gallery walk/talk on the work of Josiah Wedgwood on Sunday, Oct. 5 (2 p.m., Brunnier Art Museum, 295 Scheman). It is free and open to the public. Her presentation will highlight the innovations used and ancient culture decorations favored by Wedgwood.
English potter Josiah Wedgwood went into business for himself in 1759 in Burslem, Staffordshire, England. Before he died in 1795, he invented and produced three of Wedgwood's most famous ceramic bodies: Queen's Ware (1762), Black Basalt (1768) and the most famous line, Jasperware, which first appeared in 1774 after thousands of experiments. While "Wedgwood Blue" may be its most recognizable line, Jasperware also was made in multiple shades of green, lilac, yellow, crimson, black and white.
Despite company ownership changes in the last 30 years, Wedgwood production continues today.