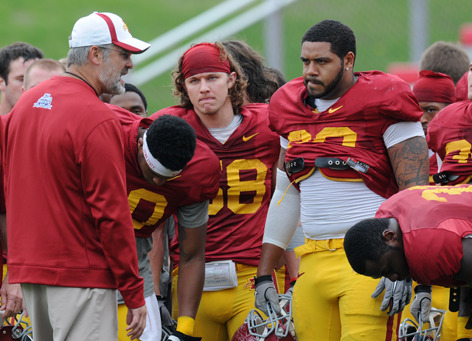 Iowa State football coach Paul Rhoads will give fans a glimpse of next season at the 2013 Cyclone Gridiron Club spring game on Saturday, April 20, at Jack Trice Stadium (2 p.m.). The annual intrasquad scrimmage wraps up a string of 14 practices over the last three-and-a-half weeks.
Admission to the game and parking is free. Fans are asked to park in lots A, B, C or D; and enter through gate 1 on the north side of the stadium. Seating will be limited to the east side.
Free copies of the 2013 Cyclone football poster and schedule card will be available on the stadium's northeast concourse; and the athletics ticket office will be open (1-3 p.m.) for season-ticket purchases and questions. Cyclone merchandise will be on sale on the plaza north of the Jacobson Athletics Building, including clearance items from Cy's Locker Room. File photo, courtesy of athletics communications.