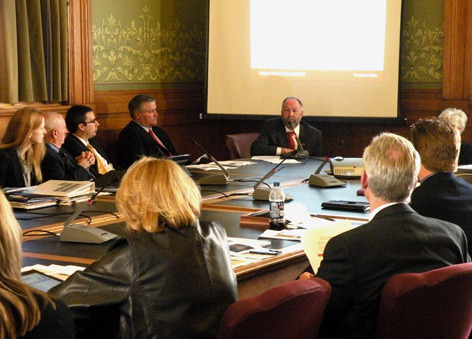 President Steven Leath made his annual funding request to the joint Education Appropriations subcommittee of the Iowa Legislature on Tuesday. He was joined by Iowa president Sally Mason, Northern Iowa president Ben Allen and Board of Regents president Craig Lang.
A key piece of Iowa State's FY14 funding request, submitted to the state in October, is an inflationary 2.6 percent increase to appropriations that cover operating budgets for ISU units.
One of Leath's messages Tuesday was that Iowa State operates efficiently and is a good steward of the state's investment. He shared a Wall Street Journal survey of 72 major research universities in which ISU ranked seventh most efficient in management costs.
"We are extremely efficient in terms of management (costs) and appropriately placing programs where they need to be," Leath said. "If you award us with money, we're going to spend it very wisely."
The PowerPoint slides that accompanied Leath's presentation are available on the president's website.