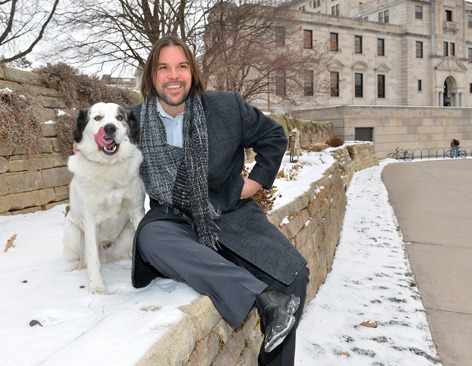 One of the recommendations of a military student task force appointed in 2010 by vice president for student affairs Tom Hill was to create a position to coordinate support services for student veterans and military students. Last May, Gilbert High alumnus Jathan Chicoine ("Shi-KWIN") arrived on campus as the university's first veterans services coordinator. The Veterans Center is in 3578 Memorial Union.
The basics:
Name: Jathan Chicoine
Position: Veterans Services Coordinator
Military experience: U.S. Navy SEAL, 1995-2001
Time at ISU: Eight months
Education: Bachelor's in cultural anthropology and international studies (2006); master's in interdisciplinary studies (2009), University of South Dakota, Vermillion
How large is Iowa State's student veteran population?
This semester, we know of 621 veterans, military personnel and family members at ISU. Of that group, approximately 560 are receiving military education benefits as certified with the U.S. Department of Veterans Affairs. More than 150 of the 560 students are family members receiving benefits through a loved one who has served or is serving.
However, the total number is most likely higher. Unless veterans or military personnel self-identify during the admissions process, we don't really have a firm number. I'm starting to get a better sense, but it will take time. Our country has the largest number of veterans since World War II and universities are one of the places veterans reintegrate into society, so we expect the numbers to increase.
One might assume you're fond of bureaucratic hurdles?
Any student receiving veterans education benefits works with one of three V.A. certifying officials in the registrar's office (Rebecca Foster, Marcia Jaspering, Judy Willemsen). They certify them on the front end and then the paperwork goes through the V.A., so that's an essential role. I'm looking for ways to streamline that process, but I don't get too involved on that side.
Once they arrive on campus, I'm here to help veterans and their family members navigate a large system (Iowa State) – it's that whole idea of returning services to those who have served us. A lot of what I do is connect resources, connect people, help educate faculty and staff. I can serve as an advocate. Sometimes faculty or staff have questions. For example, when a veteran deploys, we need to find solutions to working with them. I can serve as translator and help explain the process.
So, what sorts of services are you working on?
We organized the third annual statewide veterans conference in November and had over 200 participants. One of the most powerful presentations was a panel of student veterans discussing their experiences. We create partnerships, for example, with the women's center, student counseling center, LGBT center and others. That's been really good. Veterans cut across all demographics. We're creating a veteran-to-veteran peer support group, we're working on creating a learning community for student veterans. We're getting ready to have a retreat (Feb. 1) for the ISU Student Veterans of America Club, which I advise. I'm looking into creating a new student orientation for veterans and their family members.
Sometimes GI benefits may not arrive by the first day of school, which creates cash flow problems for student veterans. We connected with the student-run pantry and did a food drive. We also created the Veterans Community Gratitude Fund, to which anyone can make cash donations to be used in emergencies. The idea is, it's not a handout. When student veterans are back on their feet, they can put back in the fund, so we continue to grow it.
I've said since I was a student veteran: No matter how sophisticated we get in providing services to student veterans and their families, the most important thing we do is provide a safe, comfortable space where they can connect with each other.
What's the faculty/staff role in a good experience for student veterans?
It's important that we see this as a collaborative effort among all of us. The ways to provide support are as unique as the individuals themselves. No matter what policy or program we put in place, it comes down to having a conversation, being able to empathize. It's about appreciating who that person is, and understanding that some of our veterans carry these incredible experiences that can contribute so much to our classrooms and to our university.
I've met with so many people looking to be a part of returning services to veterans. I'd love to see each college champion a program for veterans, for example entrepreneurship, veterans to farmers, food and national security, or troops to teachers.
Would you have predicted you'd work in veterans services when you left the Navy SEALs?
No. When I left the military (fall 2001), I thought I was done.
But it was extremely challenging to go from a place (U.S. Navy) where I was recognized for my accomplishments and had a sense of duty, to an environment (higher education) that didn't recognize those accomplishments. I got very involved in veterans affairs as a student veteran [at the University of South Dakota]. It was empowering for me to find a leadership role again -- as president of the vets club, as student body president, as founder of a nonprofit organization that supported veterans and their families.
I feel extremely honored and privileged to serve in this capacity at Iowa State.