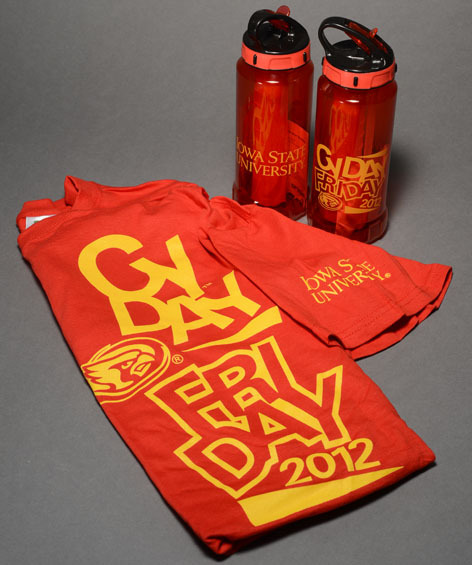 CyDay Fridays return to campus this fall, after a successful 2011 campaign that encouraged public displays of cardinal and gold pride. Free giveaways this year include CyDay Friday T-shirts and water bottles.
Like last year, the promotion takes place on Fridays prior to home football games -- except for the Nov. 23 Thanksgiving break game vs. West Virginia. On CyDay Fridays, the Pride Patrol will cruise campus in search of people wearing Iowa State gear. Photos of the T-shirt winners (24 each CyDay Friday) will be posted on the ISU Facebook page.
Cy himself also will be handing out freebies. The time and location of his appearance will be announced on Facebook with the "CyTrack" locator. He'll award free ISU water bottles to the first 100 people he finds wearing Iowa State gear.
Don't have enough Cyclone gear? No problem. The University Book Store will feature a specially discounted product each CyDay Friday, also announced on the ISU Facebook and Twitter accounts.