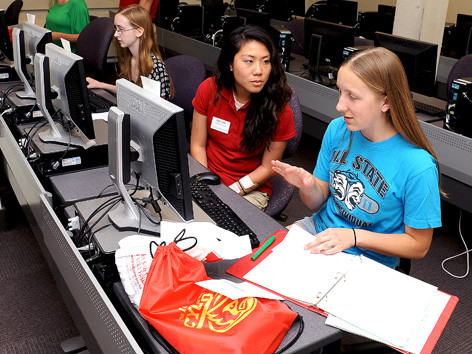 Cyclone Aide and senior Rachel Kirkpatrick (center) assists freshmen in the College of Human Sciences as they register for their first semester of classes last week in a MacKay Hall computer lab. An estimated 4,900 students are participating in two-day orientation sessions during June; more than 500 of them in the College of Human Sciences.
"We want to help them start to transition from high school," noted Dayle Nickerson, classification officer and academic advising coordinator for Human Sciences. "They're registered college students when they leave and they feel pretty good about that. That's our goal."
Each college has evolved its own registration process during summer orientation. In Human Sciences, students spend 30 minutes with their academic advisers before heading to the lab, where Nickerson and her student team are standing by to help with the logistics. Photo by Bob Elbert.